This week has been busy busy busy. Monday was just nuts and I was super tired by the time I got home from work that night. On Tuesday Sarah and I went shopping at the Gateway and then went to Matt (Matt as in Andy's brother) and Ashley's wedding dinner. Matt looked so very handsome and Ashley was gorgeous. They both looked so happy and cute! It kind of made me want to get married. Just a little bit. :] And it made me miss Andy. A whole lot. Wednesday was Kelbel's graduation. On Thursday I observed some more ultrasounds. I actually got to do the first part of a couple of the exams. So fun! I'm going to love it! That night me and Kelli were going to go to the Owl City/Classic Crime concert but we didn't because I'm too scared to drive in Salt Lake. So is she. Today I worked and then went to Matt and Ashley's reception. It was beautiful! It was almost EXACTLY what I have imagined mine looking like! It was an outside reception, Nate's (another one of Andy's brothers) band, Lokalgrown, was playing, there were cute litte white chairs and tables, cute flowery centerpieces, a yummy lemon-lime drink, delicious cake aaaaand her wedding video rocked.

Oh! I got my holga pictures back. Um, only about 5 of the 12 pictures turned out. The rest were either double exposed, too bright, too dark, or didn't work because I left the lens cap on. :] This one was my favorite.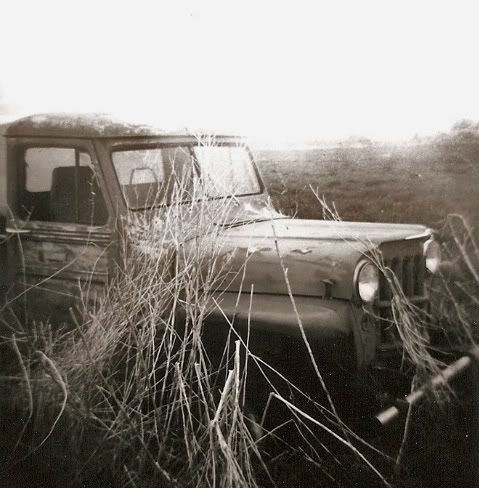 I wish I would have known that I put black and white film in there! I have a lot of practicing to do obviously. I've already started on my next roll so everyone, please cross your fingers!
This also reminds me...I need to get a negative scanner....
I've had some time to squeeze in a little scrapbooking this week. This is a page I made celebrating our 5 year anniversary. And the next picture is of a card I made. Felt and buttons are my favorite. :]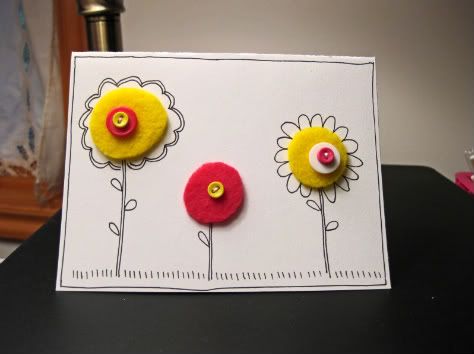 I'll be finishing up my busy week tomorrow by running 13.1 miles, hitting a couple estate sales, going out to eat for Kelbel's graduation celebration, and working.
Now I'm off to move and organize my crafting supplies. Wish me luck!